It is crucial to have your car serviced regularly, and a lube job is one of the most fundamental aspects of car maintenance. You wouldn't go years without getting an oil change or tire rotation, would you? That's because many car problems are only brought on by neglecting regular vehicle maintenance services. This blog post looks at how long a lubrication job takes and its benefits to your vehicle!
What is a lube job?
A lube job is when you service your car with all the necessary oil changes, tire rotations, fluid checks, etc., to keep your vehicles running at optimum condition. It's important to have a lube job done regularly. This helps extend the life of your engine, keeps your car tires from wearing down unevenly or prematurely, and prevents many other problems that could cost you more in repair services!
What does a lube job entail?
A lube job entails checking the engine oil, rotating tires, changing windshield wiper blades, and filling up all necessary fluids such as coolant or brake fluid. A lube technician will also check your belts and hoses to make sure they aren't worn down, which could cause significant problems for you in the future. They'll even clean out any debris in your engine to keep it running smoothly! When talking about a lube job, there are various terms you will come across. The more common ones include:
Quik Lube
"Quik Lube" often refers to when all your fluids in your vehicle get checked and topped off. It's a part of regular auto maintenance.
Oil Change
An oil change is when your mechanic removes your used oil in your engine with new clean oil. This is a necessary service if you want your vehicle to remain in good working condition. This service doesn't always entail any other services such as tire rotations or fluid checks that come with a lube job.
Full-service Lube
A complete service oil change is when you get all the required lube services done on your older vehicle, such as an oil change, tire rotation, and fluid checks. This process can take a bit longer, but it is worth it! It will ensure your vehicle is receiving the proper services to remain functioning properly for years to come.
How long does a lubrication job take?
Depending on your next oil change service and how often you need it, most vehicles only require about an hour to be serviced for them to be up to the highest quality. An oil change will usually take less average time than a full lube because you usually don't get tire rotations and fluid checks with an oil change. Meanwhile, a complete full-service lube will take the longest because you're getting all your fluids checked and tire rotations done on top of an oil change. Expect it to last at least one hour or more, depending on your location!
When should you get a lube job for your car?
There are many reasons why you should get a lube job for your vehicle when it starts to sound or run differently than before. For example, if your vehicle is making weird noises that weren't there before or doesn't seem to be running as smoothly, these may indicate potential problems in the future and will call for immediate service.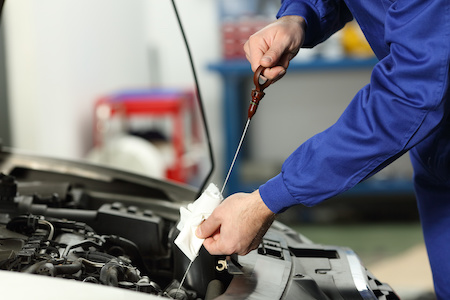 How often should I get a lube job?
If you have specific services done while getting an oil change or tire rotation, this may affect how frequently you need to get oil changes. When it comes down to it, you should have a lube job done every three months or 6,000 miles or so, depending on the make and model of your car and how frequently you drive your vehicle.
What are some benefits of getting a lube job?
There are many reasons why people choose to get their vehicles serviced, even though it may be an extra cost out of pocket. The main is that it keeps your automobile in good shape for the future. Getting lubrication done regularly can prevent potential problems down the road or even save you money on costly repairs! It's also a great way to take care of your vehicle and keep it running smoothly without any issues.
How much does an oil change job cost?
The price of oil changes will vary depending on the make and model of your vehicle and the auto shop you choose. Oil changes are relatively affordable for how much impact it can have on your vehicle.
Conclusion
A lube job should be done every few months to keep your vehicles running smoothly without any problems. The good thing is that it is a relatively straightforward process that won't take the whole day. Whether you're looking for full-lube or quik lube Battle Ground services, our technicians will take care of everything for you. Visit us at Art Morse Auto Repair today!
FAQ
What happens during an oil change?
Oil changes are the most common service you can get at a lube shop. During this process, your car's oil is drained, and new oil is added in its place to keep it running smoothly! It also includes changing ALL of your fluid when necessary, such as power steering fluids or transmission fluids, depending on what package you choose.
When should you get a lube job?
You should get a lube job when your vehicles start to make weird sounds. This is often an indicator of potential future problems and needs immediate service before they become worse!