Every driver knows that car troubles are a part of life on the road. It's always a hassle when your car breaks down. But it's even more of a headache when you have to find reputable auto body repair shops. How can you be sure that you're making the right decision? Here are five tips for choosing the right auto repair shop!
Ask for recommendations
If you're unsure where to take your car, ask other drivers for recommendations. Your family and friends might know a good repair shop nearby. It's probable that they've had to deal with car troubles as in the recent past. If they have a go-to auto shop, there's a good reason for that. Alternatively, you can ask for referrals from your mechanic, auto insurance company, or simply do some research online! They can offer suggestions based on experience. This way, you can rest assured that the experts you choose have been tried and tested.
Check out the shop's website and reviews
Ideally, you want to ensure that all your auto issues will be handled effectively and efficiently! In addition to asking for personal recommendations, you should also check out the auto repair shops' websites and online reviews. This will give you a good idea about what to expect from each business. Beware of fake reviews, both negative and positive. Website reviews can help you get a feel of a shop's level of professionalism based on past customer experiences.
Schedule an inspection
If you're still unsure about the right auto repair shop to choose from, schedule a free inspection with the business of your choice. This will allow you to see what kind of work they do and ask any questions you have. It also allows you to get a feel for the shop's customer service. Are they friendly and helpful? Or do they seem too busy to deal with you? If you have any reservations, it's best to keep looking. Finally, remember to ask for an estimate before deciding on an auto repair shop.
Look at their credentials
Do they have certifications? Do they offer warranties on services provided? Are their technicians certified by any automotive industry associations or organizations? If so, this is a good sign that they know what they're doing. Look for the ASE (Automotive Service Excellence) seal of approval and other credentials such as AAA (American Automobile Association) approval. You'll want to make sure that you're taking your car to someone well-versed in automotive repairs. This is the only way to guarantee that you won't be going back to fix the same car issues a few weeks later.
Consider location and convenience
How far away from your home or workplace are the auto repair shops? While it's important to choose a reputable and qualified business, you also don't want to spend hours driving back and forth. Consider businesses that are close by – this will make it easy for you to drop off your car and pick it up when the repairs are done. You should also factor in their hours of operation; you don't want to take your vehicle to a shop whose hours conflict with your schedule.
What are the qualities of the best auto repair shop?
When shopping around for the best auto repair shop, be sure to look for one that is: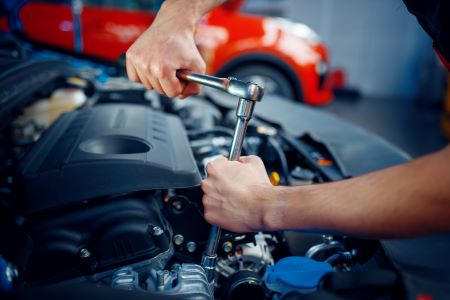 Reputable and qualified
The first thing you want to know is how reliable the shop is. You don't want to take your car to just anyone who claims they know how to fix it! Look at their credentials and certifications to ensure they do the job right. Finally, ensure they have up-to-date equipment.
Affordable car services
It's important to find auto shops that offer affordable car services without compromising quality. You don't want to be overcharged for simple car repairs, but you also don't want subpar work, no matter how cheap.
Efficient and effective service
The repair shop should handle all of your car issues efficiently and effectively. They should also offer warranties so that if there's a problem with the work, the repair shops can fix it without charging you again.
Friendly staff members
You'll want to find a repair shop that has friendly staff members who are willing to help you with whatever your car needs may be – whether it's an oil change or a major repair. The staff should also be knowledgeable about automotive repairs and answer any questions you may have.
Convenient location and hours
The right auto body shop should be conveniently located near your home or workplace, with hours of operation that fit into your schedule. You don't want to waste too much time driving back and forth!
How often should you visit a car repair shop for service?
Most car repair shops recommend that you visit for service at least once a year. However, this may vary depending on the make and model of your vehicle, as well as how often you drive it. Be sure to ask the shop what their recommendations are so you can stay on top of your car's maintenance.
Can I perform auto repairs myself?
While you may be able to do some basic repairs yourself, it's always best to leave major repairs to the professionals. Trying to fix something that you're not familiar with can end up costing you more money in the long run – not to mention causing further damage to your car. When in doubt, take it to a trustworthy auto repair shop!
How Can Art Morse Auto Repair Help?
If you're looking for a quality, reputable auto shop that offers affordable car services and convenient locations and hours, Art Morse Auto Repair is the place for you. We're a locally-owned shop with ASE-certified technicians knowledgeable in all aspects of automotive repairs. Plus, our experience of over 40 years ensures that we can handle any auto repair service your car may need. Contact us today to schedule an appointment!