Get The Oil Change Services You Need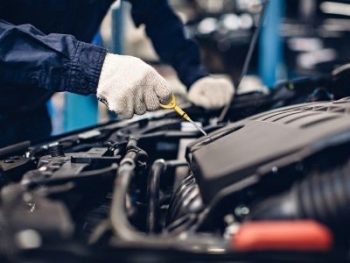 Preventative maintenance, like regular oil changes, is the best thing you can do to get the most out of your vehicle. It elongates the life of your car and enhances your engine performance. At Art Morse Auto Repair, we can provide oil changes for any type of vehicle. We offer fast, reliable service by experienced, certified expert technicians.
For over 43 years, we have been the go-to auto repair shop that Vancouver residents trust to work on their vehicles. We know that not every oil change is the same, and utilize the right engine oil for your specific make and model of vehicle. We are happy to discuss the oil change options with you and make suggestions, but we always allow you to make the final decision on what type of oil you prefer for your vehicle.
Our multi-point oil changes include:
Coolant Exchange
Fuel System Cleaning
Engine Flush Service
Air Filter
Wiper Blades
Light Replacements
Oil Filter Replacement
Automatic Transmission Fluid Change
Serpentine belts replacement
Cabin Filter Replacement
Differential Services
Power Steering Fluid Flush
Fuel Filter Replacement
The Best Type Of Engine Oil For Your Vehicle
Engine oil comes in different weights, types, and viscosity. We can help you determine which option is best for your car as well as the season. In addition to our conventional oil change service, we offer fantastic prices on a number of premium oils that help your vehicle perform better. These include:
Synthetic Oil
This type of oil is optimum for sports cars and other high-performance engines.
Synthetic Blend Oil
This option is great for vehicles that work harder, like trucks and SUVs.
High-Mileage Oil
This type of oil is specially designed to help seal leaks and provide better combustion.
For A Fast Oil Change You Can Count On, Call Art Morse Auto Repair
While performing oil changes, our mechanics also do a 14-point maintenance check on your car. This comes with a written analysis of any suggested procedures according to what we find. Many times all that is needed is the replacement of parts that are getting worn, such as brake pads or wiper blades. This preventative maintenance keeps your car running smoothly and catches minor problems before they become larger ones.
We've performed thousands of oil changes in Vancouver and have our process down to a science. There's no reason an oil change should take all day, and if yours is taking the better part of an afternoon, you're going to the wrong place. Just because our technicians know how to save you time doesn't mean we make sacrifices.
How Often Should You Change Your Oil?
Regular vehicle maintenance is key to extending the life of your vehicle, and changing your oil between 3,000 and 8,000 miles is one of the most important steps. Neglecting to change your oil can result in engine damage and inevitably lead to engine failure. At Art Morse Auto Repair, we help you determine how often to change your vehicle's oil depending on the type of oil being used and offer affordable maintenance services beyond just oil changes. No matter what your vehicle needs, we can identify the right service for it at an affordable price. Call Art Morse Auto Repair today when you need vehicle maintenance in Vancouver!
Your Search For An Affordable Oil Change Near Me Is Over
As a locally-owned family business, we care about our customers. We are your neighbors, and we want to see you driving safely. We also want to see your vehicle last as long as possible. That is why we are detail-oriented in our oil changes and tune-ups, taking the time to go over every item. We do it right, so you don't have to worry. Contact us today for your oil changes in Vancouver. Find out the difference our affordable, reliable, friendly service can make!