Are you planning on taking a road trip soon? If so, it's essential to prepare your car for the journey. Car preparation can include anything from getting new tires to checking the power steering fluid and ensuring you have enough gas. Overall, numerous practices will save you any inconveniences during your long journey that can prevent the need for car repair at an inconvenient time. To help you out, we've compiled a list of things that will ensure your car is ready for long-distance travel!
Fill your gas tank
Ensure that you have enough gas before driving anywhere, especially if you're thinking of a long-distance trip! Be sure to fill up your tank as soon as possible if it's starting to get low. Don't wait until the fuel light starts blinking because then it'll be too late, and you won't have time to find a nearby station with gas.
Check your tire pressure
When was the last time you checked the pressure in each of your car's tires? Car experts recommend doing this before every long trip because it could lead to a dangerous situation if not done correctly. If there is too much or little air in any one wheel, then you are compromising both your safety and fuel economy. Finally, make sure the tire tread has enough grip and don't forget to bring along a spare tire.
Make sure the wipers are working properly
If it's been raining a lot where you live, then chances are your car might need new windshield wiper blades! Windows wipers need replacing as soon as they start to leave streaks or slow down when running because not only will this improve visibility while driving, but it will also help during heavy rainstorms. Additionally, the windshield washer fluid should be refilled.
Keep your car clean inside and out
No one likes to ride in a dirty vehicle! Washing the interior thoroughly with an all-purpose cleaner before setting out on any ensures your comfort behind the steering wheel. It also makes your car more livable for any passengers that you'll be carrying. For the exterior, make sure to wash the vehicle and check for any dings or scrapes that may need fixing.
Check your lights and brakes before driving long distances
Do you know how many times a day your headlights turn on? This is another thing you'll want to know, as well as all the brake functions on your vehicle, before embarking on a road trip. If you notice any exterior lights outages or brake lights issues, it's best to have a mechanic come and look at your car before going on the interstate.
Change your oil if needed
Are you due for an oil change soon? According to professionals, you should replace your engine oil every three months to keep everything running smoothly while on the road. You will also notice that your car starts to handle better and run smoother when fresh oil is in the engine.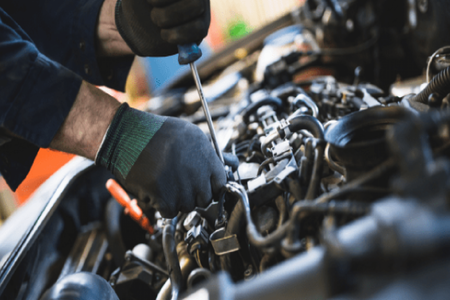 Take care of any needed maintenance
Doing routine auto-maintenance is just as important, if not more so, than anything else on this list! Remember to check all belts and hoses for wear and tear before embarking on any long-distance trips. Having all of these things looked at by a professional ensures that you start your journey with your car in the best shape possible!
Clean out your trunk and cargo area
Do you have an SUV or minivan? Remember to clean out the inside of your trunk or cargo area to create enough room for all the luggage you'll want to carry. If you are traveling with kids, it's only natural that you'll be carrying a lot of stuff; so the more space you have, the better.
Make sure you have enough fuel, food, and water for the trip
It is important to have a cooler of food and drinks with you on the road since nobody to drive a long distance on an empty stomach. If your family is anything like mine, then they'll be hungry every two hours! As such, confirm that you have enough supplies to last you throughout the journey before you start the engine.
Pack an emergency kit with tools like jumper cables, flares, a first-aid kit, etc
Aside from a basic tool kit packing an emergency kit before embarking on any long road trip readies you for any unforeseen contingencies in the course of your travel. It would help if you also had a full gas tank at all times while driving in case of emergencies like getting. If possible, pack a first-aid kit as well as flares and tow rope.
Keep your car's engine tuned up to avoid any potential breakdowns
Get your car engine checked for any potential problems before going on a long trip, lest you find yourself with multiple issues while driving. Also, check the air pressure in all four tires and keep them at optimum levels to ensure that they last as long as possible!
Conclusion
If you're planning a road trip, chances are you'll want to prep your car before hitting the open highway. This means making sure all fluids are topped off and checking things like tire pressure levels, brake pads wear, and so on. At Art Morse Auto Repair shop, we have made it our mission to help drivers stay safe by providing helpful services to keep your car running smoothly for years to come. Give us a call for more information!
FAQ
What should I do to my car before a long road trip?
You should ensure all fluids are topped off and check the tire pressure levels, brake pad wear, etc. Check the air pressure in all four tires and keep them at optimum levels to ensure they last as long as possible!
How should I prepare my vehicle for long road trips?
It would be best if you cleaned out your trunk, made sure you had enough fuel, food, and water for the trip. Carrying an emergency kit is crucial before embarking on any long road trip because this is the best form of safety you can take with you!